ASSESS AND DE-STRESS WITH EMOTIONAL INTELLIGENCE
$8,950 CAD
Our Assess and De-Stress with Emotional Intelligence package is the perfect solution if your workers are feeling isolated, disconnected and stressed with working from home. Are they also having trouble staying focused? Are they feeling unmotivated and lonely, having no one to talk to throughout the day? Are they struggling with collaborating with their teams who are working in a different time zone? If so, our package, Assess and De-Stress with Emotional Intelligence is the ideal training experience for your employees. Scroll down below to learn more.
REQUEST A QUOTE
PROGRAM DESCRIPTION
This package, Assess and De-Stress with Emotional Intelligence, helps remote workers learn to unwind and discover personal and professional stressors impacting their emotional well-being and fulfillment at work. 
Work-life as we know it changed in March 2020, and employees were forced to figure out how to work from home. Many of us are missing in-person connections and serendipitous interactions in the office that often lead to creativity and innovation. 
We have all been forced to create "work-ready" spaces at home, as many of us did not have a dedicated home office, a ready spot for video meetings, or adequate internet performance.  
The stress of reengineering our home to accommodate our kids being home-schooled or learning online has been challenging. Or what about bargaining with our animals who aren't used to us invading "their space" during daytime hours. What do we do with them playing with a squeaky toy while we are in a critical client meeting?
The uncertainty we are all experiencing during this pandemic poses many new challenges for us. The increase in stress from the fast-changing climate requires us to have tools we may never have had to make good decisions. 
That's why this package is critical for your employee's emotional mental health and well-being. It will help them unpack why the pandemic is hard on them, and provide tips and tools for taking care of themselves and their family, and learn how to stay positive. 
APPROACH
This package first starts with each participant taking an EQ assessment. The purpose of this assessment is to collect information on leadership effectiveness and provide a snapshot of how well they are handling and coping at this time. 
Before the virtual session, each employee will receive their EQ results plus some pre-work activities to begin to think about how their emotional intelligence is impacting their performance and happiness. 
During the 3-hour virtual workshop, our certified EQ coach will debrief the contents of their EQ report, highlighting some key pages to note. The employees will discuss both their high and low competencies and explain how that helps or hinder them. The session ends with each participant developing an action plan on how to improve their emotional intelligence competencies.
The package, Assess and De-Stress with Emotional Intelligence, also comes with an additional 6-part Online Mini-Class Series where each employee can continue to enhance some of their emotional intelligence skills at their own pace. 
The Mini-Class Program includes six video lessons, six Learning Guides with self-reflection questions and exercises, and one Life Learning Guide, which consists of a summary of each lesson plus homework activities to apply the learning into their daily lives. The online program ends with a final exam to test comprehension of the mini-class.
The package has been developed to provide a mix of personal assessments, lectures, small group breakout sessions, polls, reflection questions and activities, practical application, and individual pre-work and post-work for all types of personalities and learning styles. The virtual workshop session will include an e-workbook for participants to follow along with and write in.  Creating opportunities for your employees to experience a personal and emotional connection to the concepts is what is going to stay with them, not just notes from a training session. 
This variety will allow each employee to relate to the curriculum personally and integrate what they learned into their day-to-day activities to fully assess their stress levels, decompress, and deliver impressive results working remotely from home. 
DELIVERABLES
This program is based on an expected group size of 10 participants. Please contact us for pricing for your specific group size.
EQ ASSESSMENT, REPORT & PRIVATE DEBRIEF
We use the Emotional Quotient Inventory (EQ-i 2.0®), which is the world's leading measure of emotional intelligence skills. This web-based assessment consists of 133 questions and usually takes between 20-30 minutes to complete.
The EQ-i 2.0® is a self-report assessment tool based on the 15 competencies of the Emotional Quotient Inventory (EQ-i). Not only does the EQ-i 2.0® score total EQ, but it also scores employees on each of the 15 competencies, highlighting their strengths and potential areas for improvement. This report provides each participant with a sense of how well they are coping with environmental demands and a snapshot of their emotional and social functioning at this time.
Upon completing each participant will receive a Leadership Report and receive a debrief of the results as a segment of the Building Emotional Intelligence Virtual Workshop.
ENHANCING YOUR EMOTIONAL INTELLIGENCE WORKSHOP
The Enhancing Your Emotional Intelligence Virtual Workshop will be a 3-hour workshop, facilitated synchronously (in real-time), where participants will come together at a specific time.  It can be split into 1-hour and 2-hour segments or completed in one 3-hour sitting. The workshop will consist of two parts:
EQ Assessment Group Debrief: The first 1-hour portion of this workshop will include a group debrief of each participant's EQ results. Participant scores will be kept confidential, but the group will assess the implications of their highest and lowest competencies and explore the repercussions each have on them in the workplace.
Enhancing Your Emotional Intelligence Virtual Workshop: The second 2-hour segment will be an experiential, fun and engaging workshop on emotional intelligence. In this program, leaders will learn why emotional intelligence is critical to leadership. Participants will walk away, knowing that emotional intelligence can enhance their self-efficacy, communication skills, relationships, decision making, and ability to cope with challenging work situations.
GET UNSTUCK AND EMPOWERED WITH EMOTIONAL INTELLIGENCE - MINI CLASS
Get unstuck with emotional intelligence in this 6-part mini-series that empowers you to be a "better you." This program is over 1 hour in length and is comprised of 6 video lessons. The video lessons are designed to give you an introduction to emotional intelligence, build critical emotional intelligence skills, and provide basic strategies to improve your effectiveness both professionally and personally.
Learning Objectives:
Our online 6-part Mini Class, Get Unstuck and Empowered with Emotional Intelligence training program includes video lessons and a Get Unstuck Toolkit, which includes the following:
6 video lessons

Read Me Document (downloadable file)

6 Learning Guides (downloadable files)

1 Life Learning Guides (downloadable file)

Online Final Exam

Certificate of Completion
CLIENT TESTIMONIAL
DANIEL DUBOIS
Co-founder and President, Key
"Carolyn's leadership course taught me soft skills that are incredibly important but extremely rare to learn in a classroom. She leads by example while effectively teaching emotional intelligence. I highly recommend anyone who wants to personally develop to take Carolyn's courses. You will be a better person from it. Carolyn inspires others to be great and facilitates her clients to tap into their purpose. Her students gain leadership skills but more importantly, they leave with the confidence that they can reach anything they put their mind to."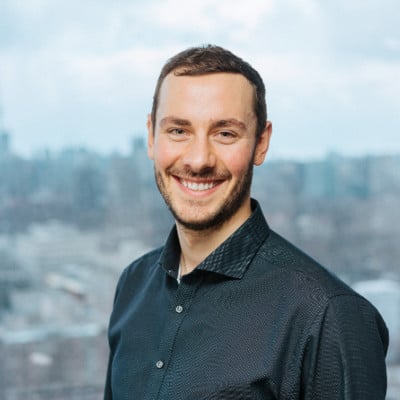 MORE PAGES YOU MIGHT LIKE…